TSD Artists
Teresa Getty | Seattle, WA
My work seeks a nexus where experience transcends visual language.
Through the properties of water my work builds and destroys itself. Banks rise through deposits of sediment. Pours of diluted material leave only traces of what was previously a vibrant passage.
Without a vessel to contain it, water is wild; similarly, my work needs structure. I find that structural answer in architecture, as well as biological forms. As skeletal lines and diffused marks, these anchor my work. Simultaneously, I work removing weeks of marks in an instant with an orbital sander, I erase, leaving only an archeology - The place where my act of making becomes the starting point for the viewer. Beyond process it is about visual and metaphorical relationships to time and space. I want the forward progress of my work to be disrupted, to fold back on itself like memory. Making my work is a ritual where lived moments are absorbed then reformed into new language, one transcendent of garnered expectation, free.
Nichole Gronvold Roller | Tremont, IL
I am interested in structures and systems; specifically structures of chaos - I enjoy manipulating the rules of perspective by twisting and distorting the subjects I am creating, resulting in discovering a new sense of place and space. These real and invented spaces are a means to organize the sensations of both actual and emotional interpretation of place. Invented spaces within my portfolio are representational of my thoughts and tend to be linear, architectural in rendering. My mixed media pieces capturing real memories are organic, have a tactile- earthly visual connection. These real memories are often triggered by the senses: a familiar song bringing me back to a childhood or adolescent experience; a scent pulling me towards a forgotten moment, all are part of the state of mind in uncovering a perception of place.
Lisa Schenkelberg | Pacifica, CA
My work is inspired by the belief that all of nature is born out of a matrix of interconnected relationships. As such, I see the process of my art as a continuously evolving relationship with the medium of clay. My work is an expression of how co-creativity is essential to the inner-workings of nature and evolution. These themes are reflected both in the process I engage to create my work, as well as in the visual impact of the completed forms. In all of my work, I begin with a structure that creates the foundation for the evolution of the piece. As I build and add clay, each new layer acts to inform the building of the next. Each layer I add is in response to the energy and movement of the previous layer. I respond to the tactility of the clay just as much as the clay responds to the moment-to-moment flow of my movements and choices, which in turn are inspired by the impact the clay has on me. The forms that emerge are the co-creative fruition of this dynamic dialogue.
Fernando Hernandez | Simi Valley, CA
The work I created explores both the idea that Mexican women are strong and proud, and that Mexican-Americans have a huge sense of pride towards their roots. Images emphasize the richness and intricacy of Mexican culture. Everything about the outfit plays a role in instilling a sense of grandeur: the clothing, the hair, the makeup, and the flower crowns. Images also convey another sense; that the women in them are proud, strong, confident and even to a certain extent entitled to your respect and admiration. Their poses, expressions, and lighting range in emotions. Some are soft, caressing, and gentle; a slight smile with their gaze to the heavens. Others are authoritative and powerful: from above the women look down on the viewer. The hand cuts and the colored shapes are meant to instill the idea of a mask, even a certain distortion from the real. Simultaneously, it shows painstakingly detailed work, something which needs to be admired closely but will be missed from a far.
Carolyn Reed Barritt | Ann Arbor, MI
I explore the complexity and experience of identity and place. Mostly I work in series, exploring specific themes and ideas. The artwork submitted here is from my newest series, The Explorer, which is inspired by the stories and accounts I've read about quests and discovery; both factual and fanciful.
Gary Keith | Arroyo Grande, CA
Collage has interested me in the way images collide or come together in unexpected ways. I will find an image or fragment when searching for something else that creates a surprise or friction for the piece that I couldn't have come up with if I was making a painting. My poetry and collages feed off each other. Both start with a phrase or image and the challenge is to build upon them in fresh and offbeat ways.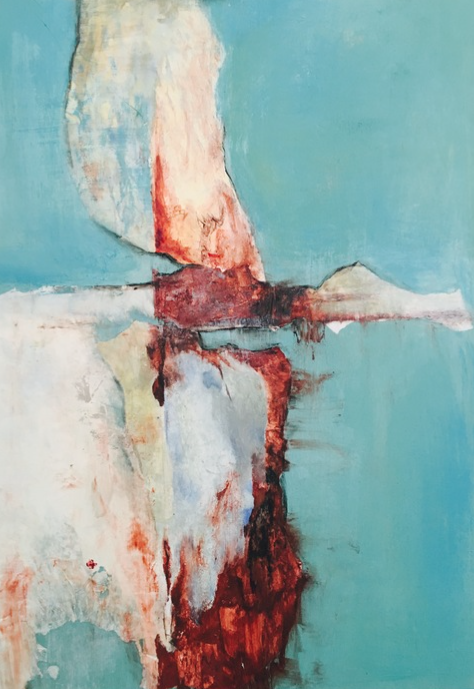 Thekla Papadopoulou | Larnaca, Cyprus, EU
I use motifs in the landscape and landscape as starting points for highly personal dialogues with the natural world. My work is characterized by richly textured surfaces which evoke the dynamics of the unfettered motion of the sea and the brooding power and mystery of the landscape. These transitory evocative images are not representational however but seek instead to elicit the sensations, memories and wonder associated with our experiences and encounters with raw nature. My abstract works encompass a wide range of mixed media techniques including the use of sand, vitro, acrylic and oil, varnish, collage and found materials. With great dexterity I then synthesize these disparate elements into a refined chromatic harmony- paintings which are at once ambivalent, monumental and enigmatic.
Carol Elkovich | Richmond, CA
Borrowing from maps of social networks, the invading patterns of virus behavior or the comportment of swarming insects, and simply the shapes of leaves and petals fallen to the ground — I am interested in disorganized complexity as a prominent overlay to the rational constructions of contemporary life. I strive for associations layered into a collective visual image that asks for contemplation of the structures shaping our knowledge, our relationships, or memories, and our physical experiences.
Erin Karp | New York, NY
My appreciation for the beauty in the natural world likely dates back to hiking with my parents as a child. They taught me to see the magic in nature, to appreciate what the Earth has to offer, to experience the details. I stop in my tracks when I see something I find beautiful: the curl of a leaf, a shadow on a wall that others fail to notice. That appreciation has allowed me to create an abstract, unusual body of work to which my viewers genuinely respond. Details, in general, inspire me to shoot. I find unexpected beauty in the nuances of man-made, architectural structures,& I experience them in beautiful segments more so than as a whole. I learned using film &, though I've switched to digital, I still shoot manually & in natural light. I give my audience what I see when I shoot, without manipulation in PS. In a world where we sometimes find ourselves overwhelmed with the ugly, there is so much beauty that we overlook; I try to focus on the beauty in the small details in this life!