MC Artists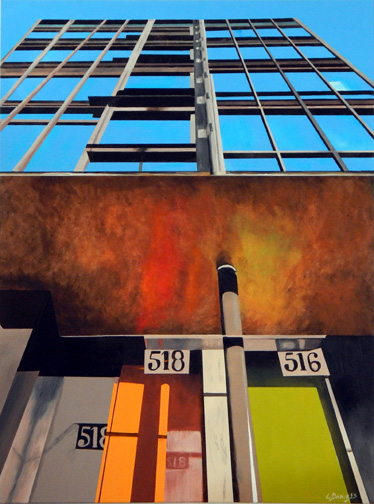 Lisa Daniels | Lake Stevens, WA
Specializing in abstracts, architecture and nature my art is a range between linear structure and free-flowing emotion to represent the subject I am visualizing. In my buildings and structures I try to show their beauty, strength and relations to their surroundings. The building materials are important in the look and texture of my work. The abstracts are my emotional expressions of the subjects of buildings and nature in color and mood. Sometimes they can be a view into my emotional and physical reaction to my subject matter. My abstracts tend to be simplistic in order for the audience to be inspired by the colors and movements within the paintings. My goal is for the viewer to think and feel something about the setting, movement, emotion and moment of the paintings.
 
John Swartwout | Wisconsin Rapids, WI
My work explores why an art object is inherently deemed "precious" or why an art object is only approachable between the comfortable spaces between viewer and object within a gallery. What if the art breaches a viewer's personal space or if it examines the viewer? Would it be an environment that would imply art questioning what we as viewers represent? For quite some time I have worked to create environments that use both kinetic artwork and video/film, which foster these types of questions from audiences. By using wireless technology within the piece entitled, "Will Accept Cookies" the viewer's image is projected on either side of the main film projection and looks like they are surrounded by elements within the painting.
Janet Milhomme | Woodland Hills, CA
As we witness the rapid deterioration of our ecosystems, the ecological disaster slowly unfolding at the Salton Sea goes beyond the isolated situation of a dying lake and becomes the canary in the cave relative to the problems of water scarcity, pollution and overdevelopment facing California, if not most of the western U.S. "Vanishing Oasis" is a series of conceptual images highlighting the current crisis and warning of those to come. Viewed from afar, the sea glistens with a startling blue outlined by a pure white shore. In reality the blue is a false curtain reflecting the sky, concealing a toxic brown stew edged by false shorelines of fragile salt mats and fish skeletons. The odor of decay swirls above the mud and blends with the dust, belying the sea's beauty and mystery, a cool mirage slowly vanishing beneath the unrelenting desert sun.
Perfecto Baloloy Jr. | Buena Park, CA
My art is considered 2D or Relief Painting or combination of more than two different styles like Folk art and Mosaic art. It was inspired by small plastic toy soldier. I remember when I was a kid playing them, place in a horizontal platform in two layers, then I shoot them using a rubber band one by one until all of them fell on the floor. This art work is a part of a series under one theme " City Of Angels ". It's a showcases of peoples walks of life in urban Los Angeles.
Barbara Skoog | South Pasadena, CA
The art of marbling (floating paint on a thickened water bath, creating designs using special tools, and transferring the image from the surface of the bath onto paper/wood/fabric) is thousands of years old and yet today, there are very few of us exploring the art form beyond the traditional. I am driven to create a body of work that underscores the unique properties and astounding beauty of marbling while also contemporizing it by using nontraditional materials and techniques. In other words, by studying (and always being a student of) the traditional ways, I am better able to break the rules. My work builds upon exploration and discovery. When I step into my studio, I step into a world, and mindset, of wonder and awe. I am interested in creating modern and abstract pieces that are evocative—stoking the flames of memory and emotion—through texture, shape, color, and movement.
Francesca Saveri | Berkeley, CA
I love color, form, and the heat of encaustic. These elements ignite my senses and bring forth a construction that is intuitive and reflective of my environment. Nature is my essential teacher whether in my native California or in Brazil where I travel yearly. This confluence of Brazil and California has inspired me to explore the use of strong color, bold shapes and organic mark making. I have learned from personal experience that color is a powerful change agent and can be used to influence emotions, health, and soulful integrity.
I paint to experience positive change, curiosity and connection in life. As I work with Color, I feel an undefined language linking the physical and emotional geographies. I move and make choices with my body. My pieces often begin with an intuitive, space-defining sketch made directly onto the panel. Color or an emotion fuels the painting. I work quickly, choosing additional colors to challenge the palette and evolving composition.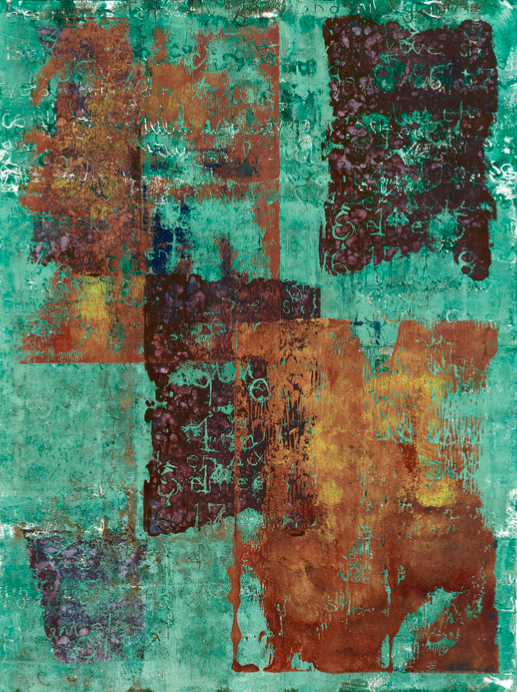 Rebecca Woodhouse | Seattle, WA
I work with words, creating colorful, abstract linocuts. I hand press my work, layering colors with different size blocks. I mostly work wet into wet. I sometimes paint on the prints and etch into them as well, blurring the lines between printmaking and painting. The text wouldn't make sense as a narrative. For the most part, I intend the words to be a visual element rather than communicative. Some words are lyrics, but most are about life and art, news, people, time, and myself. I have been reluctant to state that my family and my role as a parent inspire a lot of my work. Frankly, it shouldn't matter, but it does. I have heard parents have little time, energy, and focus, but we have inspiration, possibly an extra drive to be in the studio, and the pure need to release the chaos of our lives. Family can be a distraction, as can be daytime jobs and nights with friends and lovers, but it can also be fuel, just as everything else can be.
 
Huntz Liu | Los Angeles, CA
My work revolves around the notion of imaginary spaces and non-figurative objects that are self-sufficient and self-sustained within their compositions. I am intrigued by the mechanisms and kinetics found within both technological and natural structures: the organic and the mechanic. Working with cut paper allows me the opportunity to explore the underlying layers (literally and figuratively) that drive both systems and is an extended reflection of the human condition and our position above, yet never beyond nature.