EGGIWEGS Artists
Lisa Ross | San Diego, CA
Lisa Ross is a fine art photographer and award-winning writer. A graduate of the University of Southern California in Communications with a minor in film studies, she trained in the fine art of photography at the prestigious Hamilton High Photography Department in Los Angeles. It was there that Ansel Adams and Bob Willoughby awarded her top honors.
An allergy to darkroom chemicals led her down a different path, first as a psychotherapist and then as a political writer and consultant. Her commentaries have appeared in the nation's top newspapers and on radio. Her widely read column, The Ross Retort, was the recipient of numerous San Diego Press Club awards and honors from the Society of Professional Journalists.
The dawn of the digital darkroom in the early 2000's brought Lisa back to fine art photography, shooting in the world's most visually interesting places. She was one of the early adopters of Nikon Photo Scanners, Adobe software and Epson printer technology.
Now considered a Master Printer, she achieves the feel of a painting while retaining the immediacy of the photograph, using original digitized negatives or digital images printed with Ultrachrome archival pigment on large-sized canvas. Achieving the desired effect requires use of up to eight pieces of software.
"I want the artwork to hang in spaces where people live, so they must be decorative and at the same time evoke an instant of time and place."
Lisa travels the world to capture the photographic images. Available works cover all seven continents from over 110 countries. All are shot with Canon cameras and printed on the Epson 9890.
As she likes to say, "if you are looking for an artwork from a favorite place, I probably have something. If I don't, I will go there."
Glenn Carter | Santa Cruz, CA
Glenn Carter (b.1951) is originally from San Francisco, California. In 1970 Glenn enrolled in an associate arts program at City College of San Francisco as a ceramics major. After College, Glenn spent two years sketching his way through Central and South America. In late 1974 returned to San Francisco, eventually settling permanently in Santa Cruz, CA. Within the last seven years Glenn has created a remarkably complex body of works. Notable exhibits include: Arrangements in Black and White, Santa Cruz Art League, Santa Cruz, CA/ Degrees of Abstraction", Santa Cruz Art League, Santa Cruz, CA/ Summer National Juried Exhibition", Marin Museum of Contemporary Art, Novato, CA
Jessamyn Box | Vancouver, BC, Canada
Box is a new and emerging abstract painter living in Vancouver, Canada. She has been involved in the arts in one form or another from an early age, being a former drummer and trained actor. Box moved into working with clay and hand building, and from there landed on her favourite expressive art form; painting. She now creates large, mixed media paintings that are brightly coloured and playful. Box is often inspired for her work by the fascinating texture and shapes found in the unlikeliest of places such as patched roadways, textured sidewalks, playgrounds and building sites to name a few…
Box has art in private collections in Vancouver, the Sunshine Coast, Calgary and Seattle. Her work is available for rental with the City of North Vancouver art rental program and displayed with the VGH and UBC hospital foundation. Her first public showing was in May 2017 with the North Vancouver Art Council's highly successful Art in the Garden. In January 2018 Box completed a solo exhibition titled 'Finding Play' at the Ferry Building Gallery in West Vancouver.
In October 2018 Box was involved in a group exhibition with Site: Brooklyn gallery in Brooklyn NY, titled 'Painting in the 21st Century'. Most recently Box has two paintings involved with Dab Art gallery's winter abstract exhibition titled 'EGGIWEGS' in Ventura, CA.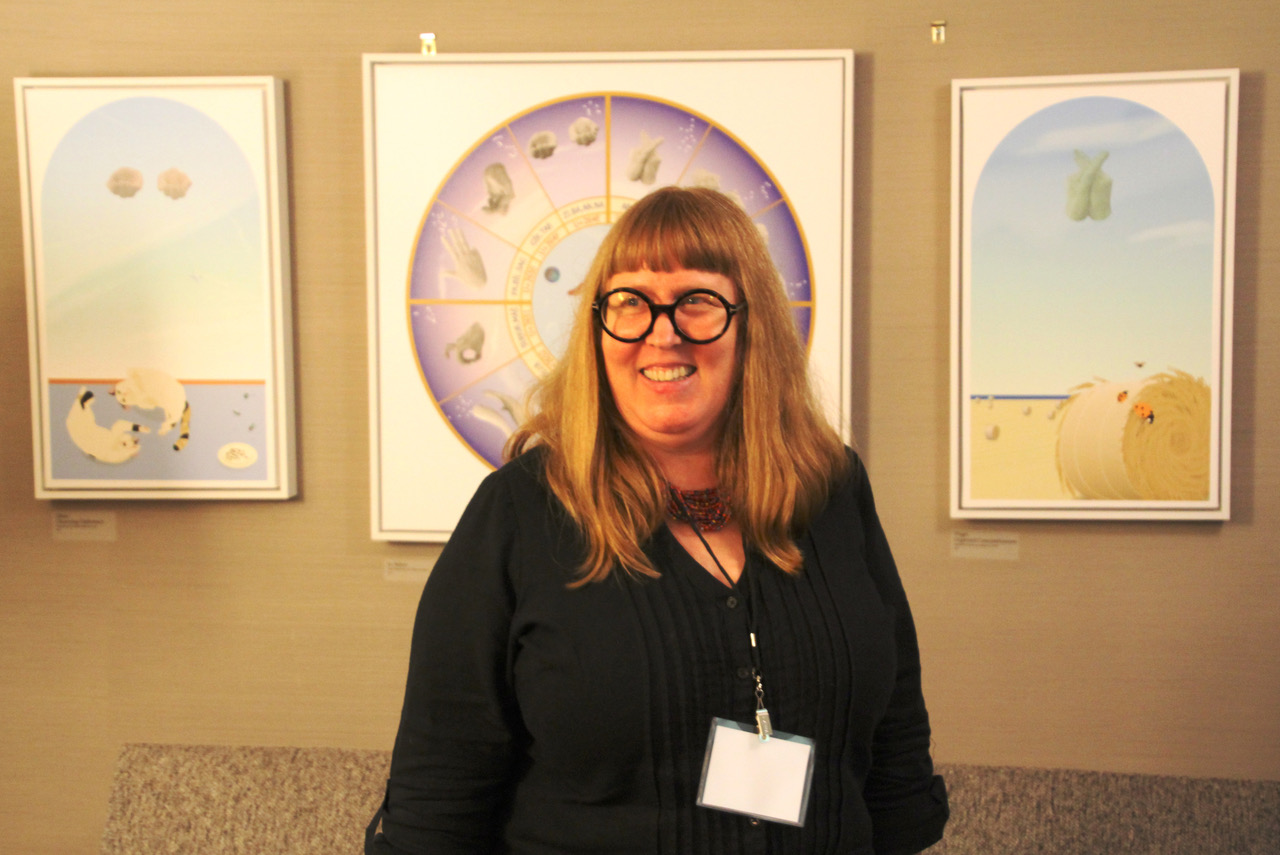 Terri Lloyd | Los Angeles, CA
Terri Lloyd is a visual artist living and working in Los Angeles. She began her exploration into the absurdities of the human condition at a fairly young age and attributes this to her 1960s latch-key-kid youth. In the late 1980s she accidentally landed a computer graphics job and spent the next 25 years in commercial art working as a print media designer.
In 2010 Terri founded The Haggus Society, a non-profit feminist arts group for women over the age of 40.
Terri has authored two books, When I Grow Up And Other Mantras, and The Little Red Book Of Commie Porn (out of print) with artist Norman Conquest. She is also a frequent contributor to Black Scat Books and during 2016 wrote a monthly advice column, "Ask PB" for the online magazine Le Scat Noir.
Currently, Terri divides her time between a vibrant visual arts practice and a Dadaist performance act known as Pink Buddha. Once in a while she manages to feed 4 cats, a macaw, a possum, a racoon or two and one very patient husband.
Tom Bolles | San Francisco, CA
My focus in creating art has always been about light, color, and surface, no matter the subject or the medium. For thirty years I have been making paintings with multiple layers of translucent paint with the intention of creating luminous art. The majority of my art would often be described as "reductive", but I have also tried my hand at both op and pop.
Over the last five years my art has increasingly acknowledged the omnipresent existence of the digital world. "Pink Bow" is one of a series of artworks I made in 2017 exploring the possibilities of using a computer to produce art related to the 60's "Op Art" and "Light and Space" movements. In this case the horizontal lines are actually comprised of 0's and 1's stretched and manipulated.
Anne Paquette | Los Angeles, CA
Anne Paquette, originally born and raised in Columbus, Ohio, comes from a long line of artists, video artists and writers. Interested in dance in her younger years, Ms. Paquette moved to Los Angeles to attend the University of California, Los Angeles, and in 1990, received her Bachelor of Arts in Dance & Choreography from UCLA. Concurrently, Anne studied abstract painting, film and video art while a dance major at UCLA. After graduating, Anne produced many dance concerts in Los Angeles, Santa Barbara, and Columbus, Ohio, In 2002, Anne enrolled at the Brentwood Art Center, under the instruction of artist/teacher, David Lloyd. Since that time, Ms. Paquette's artwork has been well received and shown nationally in Tieton, Washington, Laguna, California, Ventura, California, Santa Monica, California, Baton Rouge, Louisiana and New York. Filmically, Ms. Paquette has received multiple awards in her video art and short filmmaking projects and installations. In particular, in 2016, Anne won the Platinum Award at The Oregon International Film Festival, with her experimental film entitled, "Aqua Velvet", and most recently in 2018, Anne's short film entitled "The Haunting of Katherine Brohm" was an official selection in the short film category at the Europa Film Festival in Barcelona, Spain. and her "Desert Money" short film was a semi-finalist at both the "New Filmmakers Los Angeles" and "Cinefest" also in Los Angeles.
Carl Shubs | Beverly Hills, CA
Throughout Carl Shubs' 30 year career as a psychoanalytic psychologist practicing in Beverly Hills, CA, he has also been a self-taught contemporary fine art photographer. His first exhibit was in 2011, as part of a group show at the Museum of Neon and Kinetic Art, in Los Angeles. That recognition encouraged him to deepen his commitment to photography and to begin showing his work.
In 2014 he was accepted into membership in the Los Angeles Art Association (LAAA). His work is held in private collections and he has exhibited nationally and internationally. He has been in many juried exhibitions (including over 20 in 2016 and also in 2017, while approaching that number in 2018). His acclaimed jurors have included Elizabeth Avedon, Andi Campognone, Debra Klomp Ching, Brian Paul Clamp, Cynthia Corbett. Catherine Couturier, Shana Nys Dambrot, Scott B. Davis, Crista Dix, Peter Frank, Herair & Lori Garboushian, David Garnick, Greg Gorman, Mark Steven Greenfield, Jim Morphesis, Aline Smithson, Yessíca Torres, and Richard Vogel.
He has won awards and honors, had his work published in such prestigious publications as Lenscratch, F-Stop Magazine, and the Photographer's Forum hardcover book Best of Photography 2015, and been in a digital display at the Louvre. He is proud to have curated a combination solo exhibit and group show that included seventeen amazing artists who work in a variety of media. He served as curator for L.A. Photo Curator's online exhibition "Street Shooting."
Denby Dale | Asheville, NC
Denby Dale is a mixed media artist residing in Asheville, NC. She is known for her adaptability within several artistic mediums including sculptural encaustic painting, abstract drawing, and small format assemblages. The abstract approach to all of her work is consistently informed by the embrace of color and mark making movement, juxtaposed with form driven minimalism.
Born in Washington D.C and spending the balance of her young adult life in Massachusetts, Dale received a BA in English with a minor in Studio Art from Connecticut College in New London, Connecticut. She then spent over 15 years managing multiple fine art galleries in southern Massachusetts. Ms. Dale continued to develop her own art practice, and her work can be found in several private and business collections. She consistently exhibited works at several New England galleries, including Scargo Pottery & Art Gallery in Dennis, MA, The Provincetown Art Association and Museum, & The Cultural Center of Cape Cod. She has participated in several significant group exhibitions at galleries including the Bowersock Gallery and The Schoolhouse Gallery, both also located in the renowned historic art community of Provincetown, MA. In 2009 she was chosen to participate in the international encaustic exhibit Encaustic Works 2009, 7th International Biennial. In addition, Dale has exhibited and sold assemblage pieces at the DeCordova Museum & Sculpture Garden museum shop in Lincoln, MA, ID in Provincetown, MA, and Origami Ink in Asheville, NC. She was recently the selected cover artist and interviewee for The Laurel of Asheville, a local arts and culture magazine.
Currently, Dale's encaustic and painting work is represented by Contemporaneo Asheville Gallery, in Asheville, NC. She has also recently launched a series of mixed media teaching workshops at the gallery, which have garnered a growing fan base.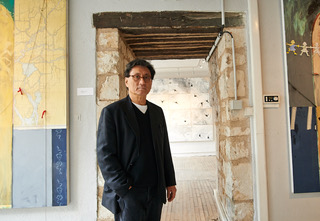 Glen Moriwaki | Bay Area, CA
Glen Moriwaki is a Bay Area artist living in Walnut Creek, California. His work has been exhibited in San Francisco, Hawaii, and France. Glen paints large abstract or semi-abstract acrylic works on paper and canvas, often employing mixed media, collage, and found-objects. His current work includes a series of very large multi-panel paintings, some of which are permanently installed in public spaces. Each painting is comprised of images painted on many discrete canvases, which are then assembled into unpreconcieved compositions.
Recent solo exhibitions include Galerie L'Espace 13 in Mur-de-Barrez, France, 2016 and Galerie-In-Situ, LaBel Friche in Nogent-le-Rotrou, France, 2015. Glen's Painting in the South of France Workshop celebrated its 20th anniversary in 2018. He is offering the third session of his Kauai Westside Painting Workshop this winter. Glen received his BA, MA, and MFA from UC Berkeley, studying with Joan Brown and Elmer Bischoff. He retired from full-time teaching (painting and contemporary art history) at City College of San Francisco in 2014.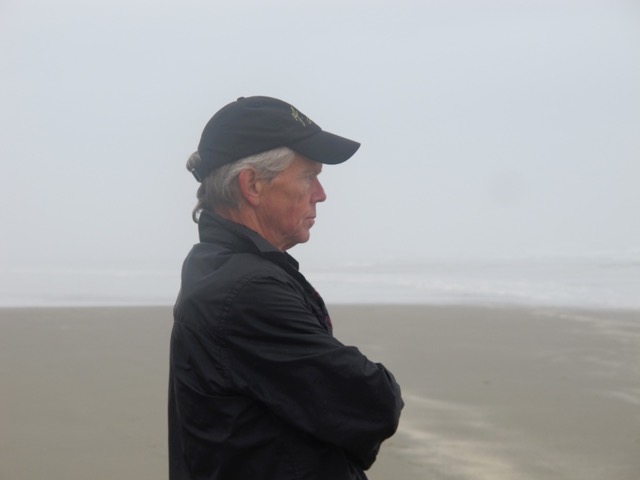 Mark Bennion | Vashon, WA
Bennion's style has evolved from large-scale installation work to sculptures and collages to paintings.
His work in the last ten years reflects many minimal influences. His concentration on the simple geometric abstraction has been constant, though there are variations of size and shape. He continues to explore a theme that has long interested him: the thread between ancient and contemporary culture.
A practicing Buddhist for much of his adult life, Bennion is not as concerned with the specific story each painting or sculpture tells, as the moment of inner peace and meditation he hopes they inspire within the viewer.
He has exhibited both painting and sculptural works across the United States, Canada and Europe since 1968.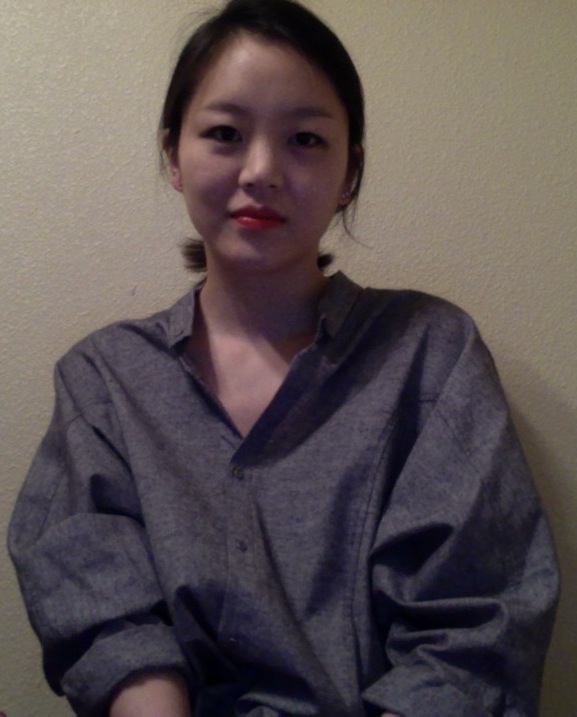 Sung Eun Park | Monmouth, OR
Sung Eun Park is an artist who currently teaches at Western Oregon University in Monmouth, Oregon. She was born and raised in Seoul, South Korea and immigrated to the United States when she was 16. Park holds a BFA from Maryland Institute, College of Art where she graduated Cum Laude in Painting. She received her MFA from Indiana University, Bloomington in 2011. Park has exhibited her works nationally in California, Maryland, New York, Indiana and Oregon and internationally in Italy, France and Hungary. She has traveled and abroad to pursue her creative research and projects as an artist.
Karen Anable-Nichols | Fair Oaks, CA
Karen is a native Californian, born to parents who were both artistically talented and, therefore, was encouraged from an early age to follow her passion. With a B.A. degree in Art, she worked in the commercial realm as a freelance graphic designer and illustrator garnering contracts with Disney, MGM, the San Diego Zoo, Six Flags Magic Mountain and several restaurants and private business in the greater Los Angeles area. With the acquisition of a secondary teaching credential she taught high school art classes for the Los Angeles Unified School District.
Upon retirement from education, Karen established La Galeria Gitana, the first art gallery in the City of San Fernando. Leaving the gallery after 9 years when her husband retired allowed her the opportunity to accompany him in relocation to northern California where she is enjoying more time in the studio with her various creative endeavors. And since her paintings have always been inspired by her surroundings, retirement has presented a new outlet -- plein air painting in her new environs of oaks and the American River. Over the years she has studied privately with artists such as Aaron Westerberg, Joyce Pike, Jeanne Down and Susan Sarba
Reina Castellanos | Orlando, FL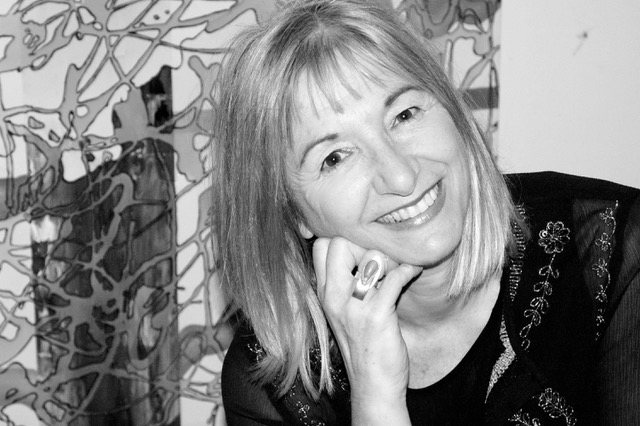 Blandine Saint-Oyant | Pasadena, CA
Blandine Saint-Oyant's vibrant abstract paintings reflect her passion for the process of painting, her love of color and of the sensuality of the materials.
She was born in Lyon and grew up in Avignon, France. In 1980 she moved to the United States. She studied at the Art Institute of Chicago and later at the School of the Museum of Fine Arts in Boston, where she received a BFA and diploma in painting. In 1994 she received an NEA/SAF Fellowship.
Her work has been exhibited in solo and group shows on the east coast and in the Los Angeles area. She lives and has her studio in Pasadena, California, but spends part of every year in France.
Tracy Child | Berkeley, CA
I want people to have a connection with my work, to enjoy a simple scene. People can then experience that transitory feeling—'I've been there, I've felt that'. My drawings and paintings are intended to communicate a fragment of time.
Ironically, these 'of-the-moment' paintings are not made in the moment. I am slow, serious, and deliberate in constructing them. Even though my work communicates a fragment in time, they require a lot of time to construct and build up layers.
I often paint a color knowing it will be covered up and I consider how the color underneath will affect the color painted above. I aim for a glow, for a depth that emerges from multiple levels of pigment, the spirit that bright color can bring.
Although my subjects often look flat, I actually use line and color to bring dimension to the shape. To me, the world is primarily shapes, and I paint and draw them as abstract forms, not as realistic objects, although the objects themselves are still definable.
Young-Jin Han | Seoul, South Korea
Born in 1960 in Seoul, South Korea, I earned B.A degree (literature) in 1984, since then I had led a solid life as a newspaper journalist for 8 years. In 1998, in order to study and become an artist, I immigrated to Canada, and completed B.F.A (Painting) at Alberta College of Art, Calgary, in 2003. Since then I started to work as a full time painter, especially pursuing Color Field abstraction. After few years in Canada, I moved to U.S in 2005, with bigger artistic vision, working in L.A and South Bay area until 2010.
As my works show, my major concern is about pure aesthetics and pure vision of reality.
Contemplative space and still calmness are expressed via Greenbergian Formalism (color, space, and form).
Now that I believe that zeitgeist of our post modern era is purity, my profession take a long journey into the manifestation of this pure vision, aesthetics.
Ricardo Beron | Nashville, TN
Shilo Ratner | Bethany, CT
Shilo Ratner was born during the late 1970's in the sleepy town of Brant Rock, MA where the vastness of the ocean called to her. She launched herself into the arts in high school with various media before obtaining her degree in design in 2000 from Curry College in Milton, MA. She furthered her studies out east at the School of the Museum of Fine Arts Boston as well as at Massachusetts College of Art. Her pursuit of a career in painting brought her out west to San Francisco where she earned her MFA in painting from the Academy of Art University. There she studied under contemporaries of the San Francisco Bay Area Figurative.
In 2009 Ratner was recognized with an award juried by Bay Area Figurative artist William Theophilus Brown in a San Francisco based exhibition. In, 2016 she presented with an award at the "The 105th Exhibition", Mystic Museum of Art by Jurors Darby Cardonsky and Will Lustenader in Connecticut. In 2017, Ratner's work was again awarded at the"116th Annual Juried Art Exhibition", New Haven Paint and Clay Club by Juror Richard Klein.
Ratner's work has been shown and juried by Theophilis Brown, Rita Gonzalez, Dore Ashton, Dean Sobel, Jen Tough, Jenny Harris and Donna Seagar
Ethan Snow | San Diego, CA
Ethan Snow is a San Diego artist working in both Painting and Ceramics. He received his BA in Studio Arts from San Diego State University.
Greg Martin | San Anselmo, CA
Brought up in a quiet San Anselmo family where painting was one of a limited means of self-expression, Greg has from an early age, been representing the content of his experience through painting. During college at UC Santa Cruz, Greg worked as the editorial illustrator for the Salinas Californian. After graduating, he continued his work as an illustrator at California Academy of Science's Pacific Discovery magazine.
With the intention of pursuing fine art, Greg began to show his paintings in Bay Area group shows and then at larger venues outside California. Over time, his work began to focus unique characteristics that attracted greater interest. With shows at The Oakland Museum of California, The San Diego Museum of Art and at venues in San Francisco, New York and Taipei, his work has emerged as a original perspective in realism.
The different themes in Greg's works have in common his fascination with realism and the different ways in which it can be expressed. From scenes that appear as staged tableaux to his large, expressionist-infused representational paintings, his work is both accessible and unique. Influenced by TS Eliot, Robert Bateman and Damien Hirst, his paintings are visually striking and imbued with an intriguing, veiled perspective.