DD ARTISTS GALLERY
Nash Rightmer (b. 1982) is an Ojai resident, visual artist, photographer and poet. His altruistic and authentic nature is signified in a portfolio spanning nearly two decades. Nash's work is comprised of both physical materials and transcendent experiences. The final examination of his finished pieces is as complex and as vast as the mind that created them. In 2011 he received a Master of Arts in Design & Visual Communications and Film & Photography. Nash works from his studio located at H Gallery + Studios in Midtown Ventura.
Charles Pepper (b. 1982) is a prolific collage and mixed media artist currently residing in Ventura. His images occupy the space between high and low, the sacred and the profane. Many of his new works explore a complex psychological direction and symbiotic relationships. Charles' work is unlike any artist before him, drawing from his natural talent and restless creative mind, he is a pioneer in composition. Charles works from his home studio in Midtown Ventura.
Dominga Opazo (b. 1994) currently resides in Ventura, emigrating from Chile a decade ago. Her mixed media work consists mostly of prints and textiles, as well as wood burning, paintings and drawings. Dominga's greatest inspiration, and often the subject of her art, is the natural world seen through the lens of her childhood. Drawing inspiration from her native Chile and incorporating elements from her new serein coastal home, Dominga is a fine artist and innovator, graduating from UC Berkley in 2016 with a B.A. in Fine Art. Domingo works and creates from her own studio fittingly called Chillipepper Labs, located in Downtown Ventura and is currently on roster with Dab Art.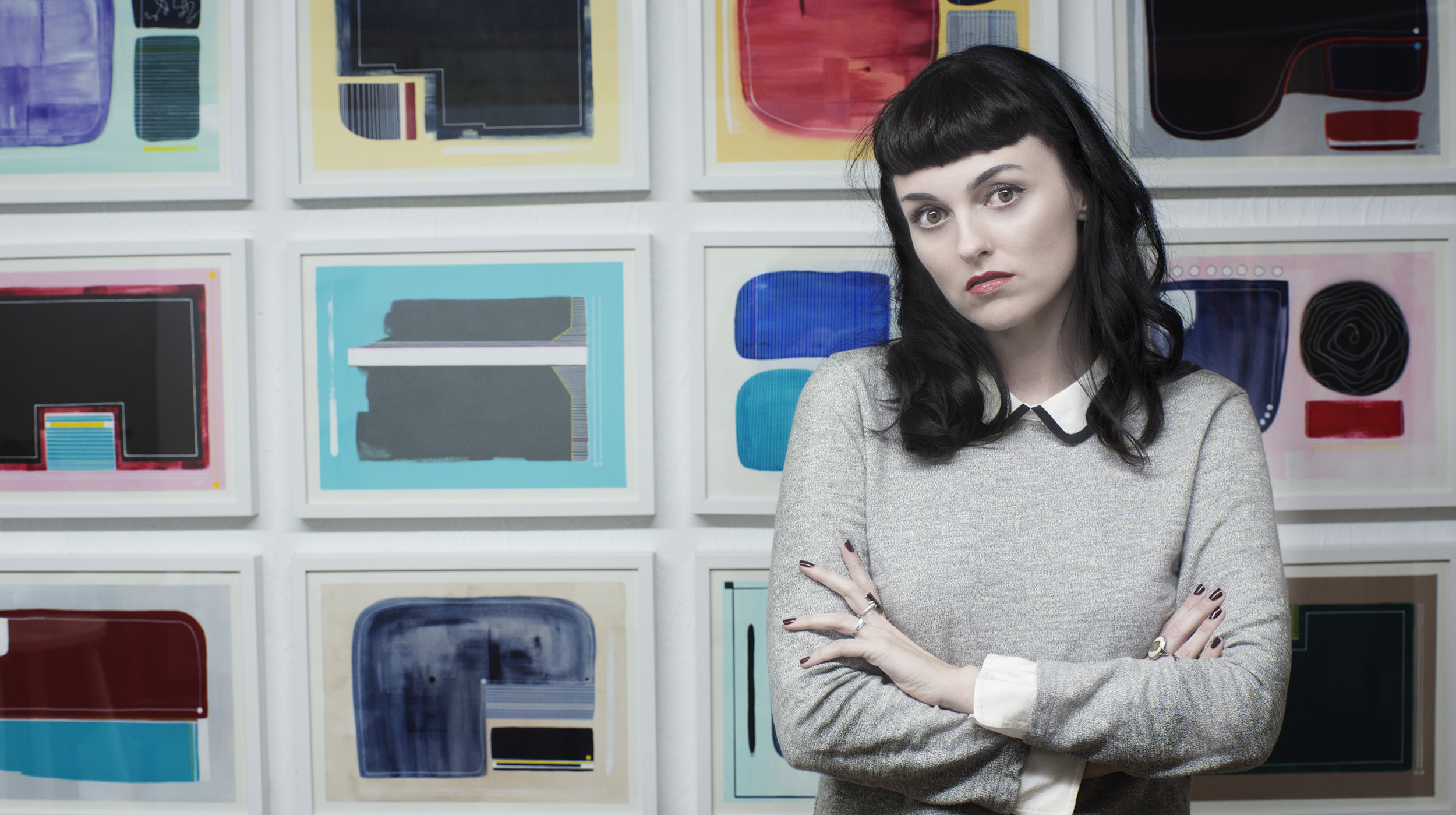 Krystal Becker (b. 1979) was born in Orange County, California. She has exhibited extensively throughout Southern California. Primarily known as a portrait artist working predominantly in gray scale, her new works are an admirably executed experimentation of time travel and tribute to color. Though currently residing in Oak View, Krystal's art studio is located at H Gallery + Studios in Midtown Ventura.
Jonas Lara (b. 1982) is an Oxnard based mixed media artist working in photography and paint, primarily focusing on Architectural Abstraction. He earned his BFA in Photography and Imaging at the Art Center College of Design in Pasadena, California and his MFA in Fine Art and at the School of Visual Arts in New York City. Jonas is also a US Marine Corps Veteran. In recent years, Jonas has exhibited extensively throughout the Central Coast and Southern California. In addition to his recent solo exhibition at The Carnegie Museum, Jonas is also the recipient of the 2016 VCAC Artists Travel Grant Award and is currently on roster with Dab Art.
Pete Ippel (b. 1979) is a visual and performance artist in Ventura. Pete's work combines traditional art materials with digital techniques demonstrating creative fluency. By moving with ease and grace through a variety of media, he focuses on communicating ideas and gains knowledge in the process. In 2002 he received his B.F.A. in Photography & Digital Art from Cornell University and his M.F.A. in 2004 from the San Francisco Art Institute for New Genres. Pete works and resides from his home studio at the WAV, located in Downtown Ventura.
Zara Monet Feeny (b. 1988) was born and raised in Thousand Oaks, California; receiving her BA at UCLA and MFA at LCAD. Zara's framework on how to conceptually investigate ideas in painting explored through her studies. By challenging traditional modes of representation and exploiting optics of value and color, she questions the common way art is received. Zara works from Arttrek in Thousand Oaks, where she is currently the Artist in Residence.
Cameron Hurdus (b. 1988) is originally from Seattle, Washington. Now a Ventura based photographer, designer and musician, He is an artist interested in them emotional connections made between people, places, and time. Primarily focusing on landscapes, his photos are reflective of his calm nature and integral spirit. The mesmerizing compositions of Cameron's work can make it easy to forget the literal subject matter through his ethereal lens. Cameron has visited numerous countries documenting the natural landscapes of the world. Recent trips include New Zealand and Australia, we he was awarded the 2016 Lido Prize, presented by Golf Digest. The Lido Prize (excellence in architecture and design), presented annually at the Alister McKenzie Society Gala held at the Royal Melbourne Golf Club in Victoria, Australia. Cameron graduated Magna Cum Laude from Cal Lutheran in 2010 with a B.A. in Fine Arts.